Sea and Navy League Cadets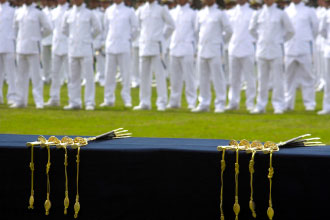 Stand out with custom-designed awards for your element, corps and cadets. Awards that you're proud to give, and they're proud to receive.
Year-End Award Package:
The cornerstone to your year-end awards package is the 12" x 15" annual plaque to keep onsite as a permanent record coupled with the 5" x 7" "Keeper" plaque for the winning cadet to take home.
Specialty plaques for visiting dignitaries, retirement and "age-out" candidates, volunteers, etc.
Customized plaques available for any and every occasion!
Customized awards to fit your needs:
Add your sponsor's name
Switch from brushed gold (default) to silver at no extra charge
Use your corp's crest, the RCSCC or Navy League crest - or both!
It couldn't be easier...
Every year, receive update plates for your Annual Award marking new winners
Your crests and artwork are kept on file - guarantees that every year your plates will match perfectly in both size and style
Our prices can't be beat:
5" x 7" (keeper) $12.95/ea 7" x 9" $23.95/ea 9" x 12" $31.95/ea 12" x 15" (annual) $41.95/ea
Update plates $3.75/ea - come complete with 2 sided tape, ready to peel and stick
Shipping and applicable taxes extra
NO set-up charges - prices includes all artwork and personalization for "ready to hang" plaques
Please allow 4-12 days for production and shipping.